Our mission is to empower individuals, teams, and organizations with the knowledge & resources to properly define and achieve their goals.
GoalMakers is committed to creating and continuously improving enlightening, engaging, and accessible professional development programs to diverse communities. We are dedicated to promoting digital accessibility to the knowledge & resources of the ever changing business needs for continued education.
30 years of knowledge,
culminated in our program:
GoalMakers Master Managers
Meet GoalMakers founder John Cioffi, a Wharton MBA, former c-suite executive, keynote speaker, published author, business coach, and passionate teacher.
Explore GoalMakers' Company History
GoalMakers has empowered clients, partners, and individuals for over 30-years.
Learn about our evolution from business coaching to an online training company.
The Winning Manager's Playbook
Working directly with executive teams for over 30-years.
GoalMakers began as a consulting firm, coaching the executive teams on the fundamentals of management and finance to help improve their efficiencies, and ultimately the bottom line.
Published the 6 practices every manager needs to succeed.
Aggregating all of the lessons from the coaching firm we brought these principles and strategies to a larger audience through our book, a blueprint for excellence in management.
Our intensive in-person week long training seminar
Expanding on the knowledge from the consulting firm and book, we created The 5-Day MBA, an immersive live coaching experience for entire teams to align and apply together.
GoalMakers Reinvented:

The Master Manager Learning Experience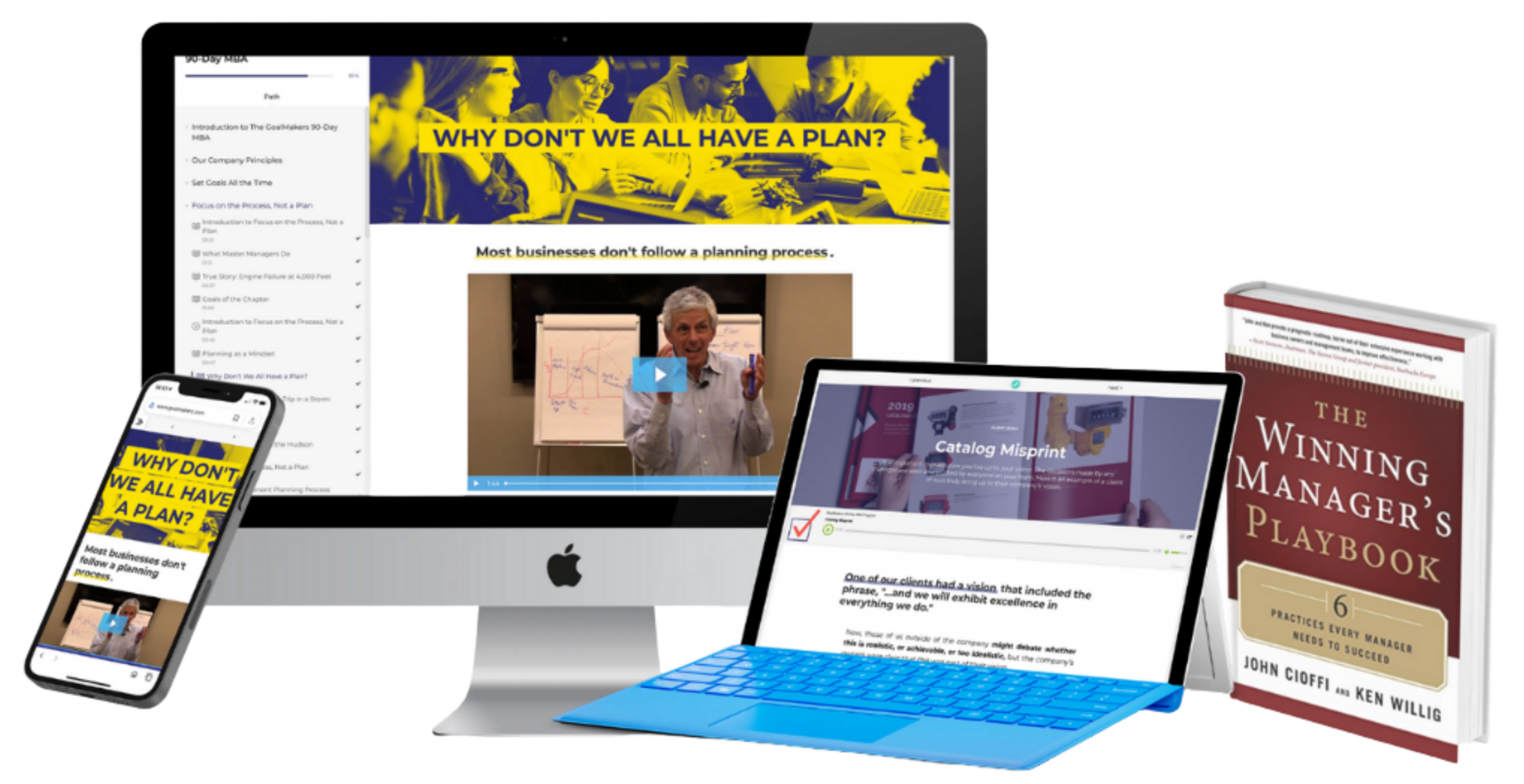 GoalMakers Master ManagerTM is our flagship program, bringing together the key teachings developed over decades teaching these fundamentals through our coaching, book, and seminar.

Master Manager was created to be an accessible, affordable, and effective way to train the entire organization to define & achieve your goals.
Meet your instructor
John Cioffi
Program Creator & Chief Content Officer
John Cioffi is a nationally recognized expert on management, and he is well known for his real-life anecdotes and his entertaining and informative style of presentation. He makes the most complex or confusing topics clear and understandable and does it in a way that is fun and directly applicable.


John was the owner of GoalMakers Inc., a firm that coached its corporate clients to define and accomplish their goals. GoalMakers has assisted clients across the U.S. and Canada in virtually every major industry and has worked with start-ups as well as companies with more than 100 years of operations. John has been an executive business coach to successful managers and owners across North America for 17 years. He also assists owners in buying and selling their businesses.


John received his first business education growing up in his family's restaurant and lodging business, where he learned first-hand the meanings of customer service, finance, marketing and sales, daily operations, and human resources. He learned to manage this business by the time of his high school graduation.


Previous to his executive coaching, John ran a subsidiary of Amoco Oil, a former Fortune 100 company. He also held executive positions in several other companies in a wide variety of industries including toxicological evaluations, economic cost-benefit analysis, industrial hygiene, laboratory analysis, and environmental cleanup.
John received his undergraduate degree from Colby College, a Masters Degree from Dartmouth College, and an MBA from The Wharton School. He lives in Bend, Oregon with his wife and their collection of llamas, goats, and dogs.
Risk-free, affordable plans!
Which plan fits your needs?
Pro Trainers
For professional trainers and online educators.
Learning Academies
For corporations and companies that offer training.
Two-for-One Pricing Checkout
Two-for-One Pricing Checkout